With great pleasure we take this opportunity to introduce you to Suryakumbh – a radical experiment to propagate the use of Solar Energy by empowering the most social and vocal beings of our Society – the Children.
Tapping a Child's hunger for hands-on, fun filled activities, Suryakumbh has been designed with suitable mix of theory, experiential and celebratory layers of the learning process.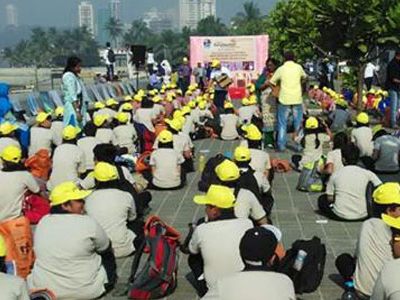 PA typical 3 hours workshop witnesses' children explore the art and science of Solar Energy, understand the basics of solar cooking, build their own solar oven, cook their own food and celebrate the effort by sharing their fruits with others. After all, this turns out to be the first time for most of the students to become a Chef – and mind you, a Solar Chef at that!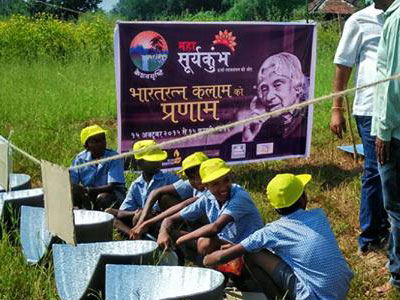 At the end of the workshop, children take their solar ovens back to their home, experimenting with different recipes, time of cooking and quantity of food. In the process of course, they share their experience with family, friends and many more, thus creating an atmosphere conducive for the use of Solar Cooking and Solar Energy at large.
But the most important effect of the workshop is unintentional, it is experiential! Children come to the workshop with presumption of making a complex box type solar cooker that has been taught in every school for decades. Wondering how they would be making such a model in an hour, most are astonished to see an elegantly simple design that can be assembled in matter of minutes.
And as they doubtfully place their food to cook in this oven, they cannot help but touch it to sense if it's really heating up. Eventually when the cooking is done filling the air with delicious aroma and food tastes great, Children recognize that solutions to most pressing problems can be extremely simple. And with this lesson in simplicity they internalize that they too can innovate and positively impact the lives of millions.
This feeling of great surprise when the perceptions are broken, the great joy of cooking your first meal, and surfacing of "I can" belief is what Suryakumbh is all about and we have been fortunate enough to take this concept to over 8000 students till date, including the World's Largest in Mumbai.
Please browse through the photos and media coverage on the same and also check the below video links for further insights.
Video Links : Suryakumbha Mumbai : 3484 participants / Suryakumbha Jalna: 2044 participants
We welcome Schools & Educational Institutes to participate in our project & organise SURYAKUMBH at their place so as students understand the concept of solar power, to motivate them to incorporate sustainable energy into their daily lives.